Proposal
Hire JP (jorpounder.eth, discord: jorpounder.eth#5419) for a Treasury role for a 3-month period
Responsibilities
Manage Treasury funds to optimize yield potential vs. gas and operational costs, including harvesting rewards, provisioning liquidity (LP) and minimizing impermanent loss, staking in NFTX, staking in Rari Fuse, and other yield strategies
Research new yield strategies that align with DAO's mission of providing liquidity while growing yield
In addition to the above, coordinate with Collections Crew to help inform NFT strategy, including:
Balance ETH and NFTs treasury composition based on different factors including technical trends, social sentiment, and upcoming events — one example is pulling all MAYC/ETH liquidity to claim Otherdeeds and avoid extreme impermanence loss on the subsequent MAYC selloff post claim
Maximize non-floor NFT assets by executing on OTC trades or related mechanisms to acquire ETH or floor NFT assets
Motivation
As the Treasury grows, so too does the strategic and operational overhead of maximizing the yield potential of funds. Examples of operational overhead include queueing and executing on multisig transactions (claiming rewards, staking, etc). Examples of strategic overhead include planning for events like the MAYC Otherdeed claim and understanding the relative value of MAYC land vs. other types of land. A team member dedicated entirely to the Treasury can make sure we are properly maximizing our yield potential, avoiding mistakes, and continuously searching for new opportunities.
jorpounder.eth has been a consistent and active member of FloorDAO from early days, helping monitor treasury yields and bonds, as well as contributing ideas like strategies to avoid frontrunning, a Yearn-like vault for bonding, tracking collection IL and yield, and analyzing options strategies. In particular, jorpounder's background in market-making and options makes him an ideal candidate to help scale our Putty strategies for both buying and selling puts (and calls soon™).
Compensation
Reference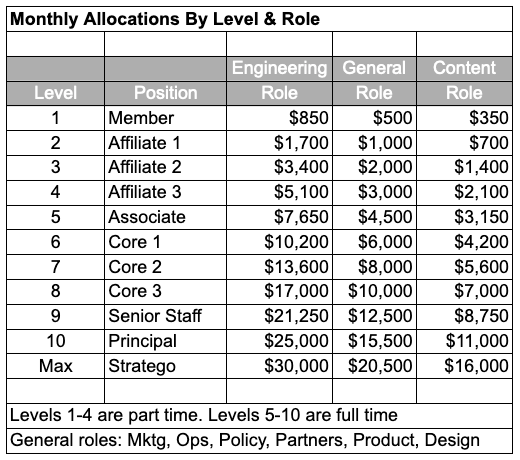 Poll
Yes — Approve proposal for Snapshot vote
No — Amend proposal
The polling process begins now and will end at 18:30 UTC on 2022-05-18 (48 hours).
After this, a Snapshot vote will be put up at 18:30 UTC on 2022-05-18.