Summary
This proposal seeks to approve a Policy framework that outlines what the Policy team can or cannot do without explicit governance approval. A framework enables broad discretion from the team to move fast, but within constraints set by DAO governance.
Original discussion: Policy framework draft
Motivation
Policy plays an important role in the FloorDAO protocol. As a recap, FloorDAO uses the Olympus mechanics of bonding and rebasing; the former to acquire assets, and the latter to reward stakers with yield from protocol growth. Properly managing each of the available policy levers requires careful simulation and consideration. Here, we propose a policy framework, drawing inspiration from Olympus while including FloorDAO particulars.
Proposal
Similar to Olympus, the objective of our policy framework is to outline
Which policy decisions require a governance vote, and
Which technical levers are available for the Policy team to adjust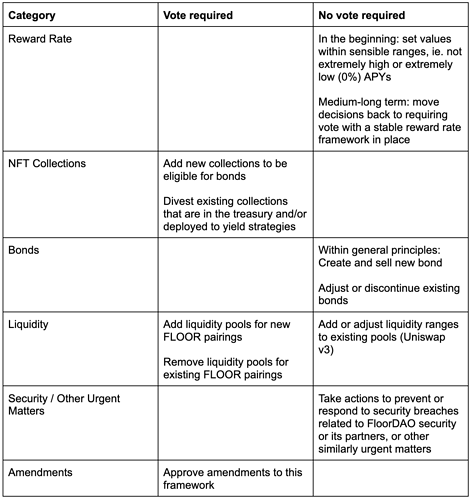 General principles for bonds:
Policy team should closely monitor 1) the Reward Rate, 2) the yield from deployed strategies, and 3) the potential yield from new strategies, and launch or deprecate bonds to sustainably grow the treasury
Policy should closely monitor FLOOR liquidity and launch or deprecate liquidity bonds to maintain sufficient liquidity
Polling Period
The polling process begins now and will end at 00:00 UTC on 05/03/2022 (March 5). After this, a Snapshot vote will be put up at 00:30 UTC on 05/03/2022 (March 5).
Poll
For: Adopt framework for Policy team
Against: Amend framework (please comment)