Summary
Referencing the initial draft of Collections Framework referencing both quantitative metrics and qualitative attributes (FUD system), this proposal seeks approval of the following shortlist to be voted on by Snapshot:
Mutant Ape Yacht Club

Doodles

Cool Cats

CrypToadz

World of Women

Forgotten Runes Wizards Cult

Chromie Squiggle
If passed via Snapshot, the top selected collection would be eligible for inclusion in the Treasury and for future bond sweeps.
Motivation
This shortlist was curated based on quantiative metrics, qualitative attributes, and Discord community discussion. Collections were included or not included for a variety of reasons, for example:
CloneX — not included due to them being relatively new (< 3 months) and questions about "fractionalization" legality
Squiggle — included to add diversity to PFP heavy list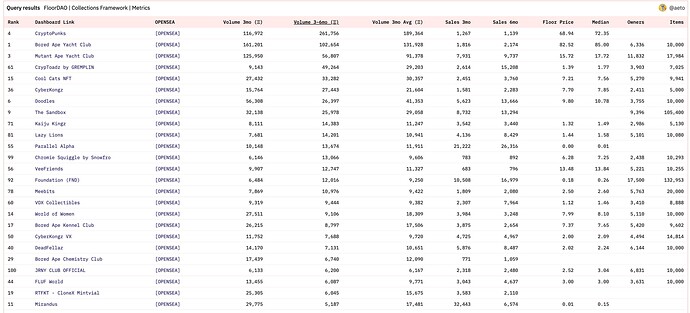 Proposal
Put forth this shortlist for Snapshot voting.
Polling Period
The polling process begins now and will end at 18:00 UTC on 04/03/2022 (March 4). After this, a Snapshot vote will be put up at 18:05 UTC on 04/03/2022 (March 4).
EDIT: Fixed poll end time to correct times (24h from post)
Poll
For: Approve this shortlist for voting on
Against: Amend the shortlist