Proposal
Hire Twade (twade.eth) for a part-time Solidity Developer role for a 6-month period
Responsibilities
Lead Solidity development of the Floor protocol across mainnet, testnets and Layer 2 networks
Develop unit tests and engage audit companies/individuals where necessary
Research new techniques to minimize gas fees
Document the protocol for other developers to use and build on top of
In addition to the above, coordinate with the rest of the team to:
Understand and implement mechanism design specifications
Assist with subgraph development and other off-chain storage requirements
Create a deployment workflow, contract addresses, method calls and ABIs
Motivation
As FloorDAO moves into its second phase of development, the need for an experienced Solidity developer to implement more complex mechanisms is necessary to achieve our goal of creating deep liquidity for those NFT collections voted into the FloorDAO treasury. This role will ensure that our contracts are secure, gas optimised and available across both Mainnet and (if/when necessary) Layer 2.
Twade has a year of experience in Solidity development, competing (and winning awards) at multiple hackathons, deploying NFT mints and more recently, working with NFTX to develop a trade up feature, utility zaps and documenting the core protocol. Twade will continue working 10 hours per week with NFTX and is currently lead engineer at the esports betting site, Midnite.
Compensation
The role is part-time targeting 30 hours per week
$12,750 per month referencing guidelines from Olympus compensation process 3
Reference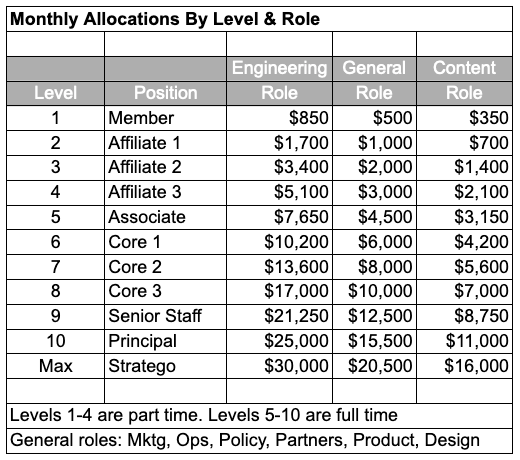 Poll
Yes — Approve proposal for Snapshot vote
No — Amend proposal
The polling process begins now and will end at 10:30 UTC on 2022-06-18 (48 hours).
After this, a Snapshot vote will be put up at 10:30 UTC on 2022-06-18.