Summary
Floor V2 will introduce a new staking mechanism for FLOOR holders as well as onchain voting for the Floor Wars and automated sweeping contracts.
This new functionality introduces new risks that the DAO must mitigate. This proposal recommends a budget for a Private Code Review and a Public Audit.
Motivation
V2 contracts will store value from users in the form of staked FLOOR tokens as well as implement onchain authorities that will allow the DAO to decentralize further in the future.
The new protocol will also enforce buybacks (and burns) as well as automated NFT sweeps, providing onchain guarantees of execution. This will increase the utility of the FLOOR token whilst also reducing operational overhead of the team (an important step towards decentralization).
Considering the value stored within the protocol, the need for a thorough review and audit is essential to mitigate any potential exploit risk.
Proposal
This proposal is split into two parts, a Private Code Review and a Public Audit.
Private Code Review
The DAO would hire an independent contractor to review Floor V2's core contracts. Put forward in this proposal is alpeh_v - previously the protocol lead at Element/Delv and now a Senior Security Researcher at the world-leading audit firm, Spearbit. https://twitter.com/alpeh_v, https://spearbit.com/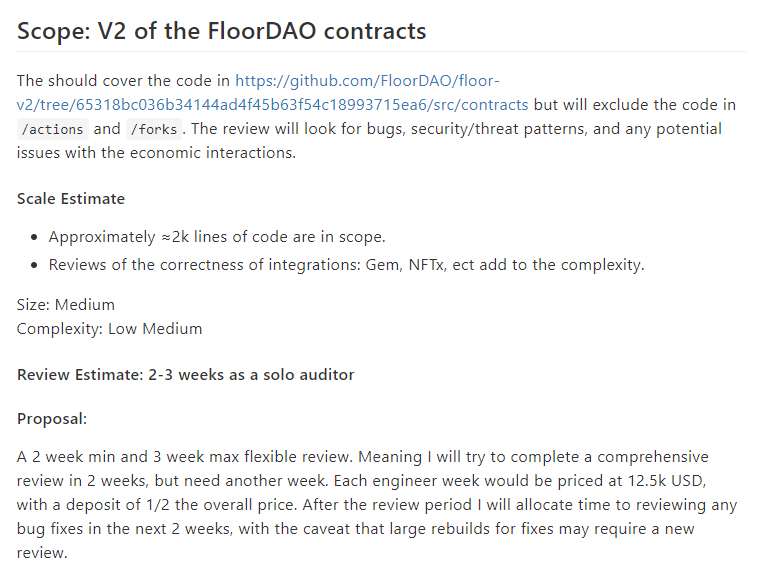 Budget: $37,500 USD
Public Audit
Following the private code review and implementing any recommendations, the DAO would hire an audit firm to conduct an additional review of all contracts. Put forward in this proposal is the Omniscia (https://omniscia.io/) who has provided the following quote.
Budget: $49,500 USD
The earliest start date will be mid-July and will be subject to availability of those selected.
The total budget may not need spending in full, in which case remaining funds will be released back to the DAO.
It would be proposed that the DAO either sell or leverage CryptoPunks to cover the cost of this ask - exact method to be discussed in Discord.
Total Ask: 87,000 USDC
Polling Period
The polling process begins now and will end at 13:00 UTC on 2023-07-04. Shortly after this a Snapshot vote will be announced.
Yes, grant request for funds
No, deny request for funds
Amend proposal
Abstain