Summary
This proposal aims to offer a fair path for Floor DAO to move forward into V2 and beyond while allowing token holders with different interests to exit into a newly formed DAO - FloorkDAO. With proportional share of the treasury migrating to Floork, the forked DAO may vote to do anything with the assets such as issuing a vanilla Rage Quit. This results in maximal conservation of momentum for the original and forked DAO.
Motivation
Floor has always been a token backed by the Treasury but over the past months has consistently traded below Treasury Value while the team remains full steam ahead on implementing V2.
As it stands right now, FloorDAO is going through a governance struggle that will likely hamper V2's ability to attract new community members and succeed in the NFTfi ecosystem. This governance block has created a hostile mood in Discord that detracts from the DAO's mission and hampers collaboration between the team and the community. There have been multiple instances where the team's vision for V2 and the DAO have been at odds with the community's and there is consistently a disconnect between holders that want to see MC==TV reached.
In 15 out of 16 gauge votes (Sweeps), the community has overwhelmingly voted to buy back the DAO's token instead of sweeping more of an NFT collection. A strong signal that bringing MC=TV is a top priority for the community.
However, both sides of the DAO deserve to exist and have their dreams met. There is simply no reason to renege on the founding principles that FLOOR is backed nor is there a reason why V2 development must stop. This is a choose your own adventure moment where those that would like to focus on the issue of TV==MC may do so through Floork while those that wish to remain and see how FloorDAO evolves may do so as well.
Proposal
This proposal funds a fork of FloorDAO (here on referred to as FloorkDAO), whose purpose will be to govern a fork of the FloorDAO token pool. FloorkDAO will be governed by a new "FLOORK" token that is minted via the rage quit mechanism outlined in the implementation below.
FLOORK holders will vote in a FloorkDAO Snapshot to determine who from the community will become the multisig signers of their new DAO. FloorkDAO will be independent from FloorDAO, with its future decided entirely by FLOORK tokenholders.
FloorDAO will then continue forward with launching V2 of the protocol and beginning the build of its first NFT-Fi product later this year under a unified vision to grow a treasury of high-yielding blue chip and emerging NFTs.
If this proposal passes, it does not prevent a similar proposal from being put forward in the future. Similarly, a non-passing vote does not prevent the DAO from executing another similar proposal in the future.
Implementation
On the passing of this proposal, FloorkDAO will deploy a Rage Quit Contract (RQC) to allow FLOOR holders to burn FLOOR and receive FLOORK tokens in a 1:1 ratio. The RQC will be open for a period of 7 days, after which FLOOR burns will no longer be accepted.
FloorkDAO governance will operate on it's own Snapshot via the floorkdao.eth space (snapshot.org/#/floorkdao.eth to be set up). Following the end of the RQC period, FloorkDAO will create a proposal to determine the multi-sig participants with the following timeline.
Day 0: FLOOR → FLOORK transfer window closes
Day 0-2: 48-hour time window for interested candidates to submit their interest in being on the FloorkDAO multisig via a FloorkDAO Channel in the FloorDAO Discord
Day 2-4: 48 hour multi-select snapshot vote for signers of the FloorkDAO multisig, the top 3 candidates will be chosen and set up a ⅔ multi-sig.
Within 24 hours of the closure of the FloorkDAO multi-sig vote, a pro-rata share of FloorDAO's treasury assets will be snapshotted based on the RQ demand calculated below.
Once the FloorkDAO multi-sig address has been established, it will be added as a signer on the FloorDAO multi-sig to complete the RQ transfer in the final step.
RQDemand = TotalBurn / (TotalSupply + TotalBurn - GovernanceHoldings)
The assets to be included in the pro-rata distribution to FloorkDAO are as follows:
WETH*
stETH
USDC
DAI
PUNK
WIZARD
MAYC
MILADY
SQGL
BGAN
NNNN
SAUDIS
REMIO
*includes any ETH balances
Prior to the execution of this calculation:
All ERC721 tokens will be fractionalized into their corresponding ERC20 token via NFTX
All available harvests and claims will be made
All liquidity positions relating to these tokens (excluding FLOOR/WETH POL) will be temporarily removed to keep balances stable during the period
All inventory positions will be unstaked i.e. xPUNK will be converted to PUNK
Additionally:
Dust positions (less than $100) will be ignored
vNFTPERP tokens are excluded
All FLOOR tokens are excluded
The execution of this proposal then concludes following the transfer of the amounts given by the above formula to the FloorkDAO multi-sig.
Data
In the above RQDemand formula the following variables are defined as so: (estimate values are taken as of August 28th, 2023)
GovernanceHoldings = FLOOR held by either of the treasury addresses (0x91e453f442d25523f42063e1695390e325076ca2 & 0xa9d93a5cca9c98512c8c56547866b1db09090326) + FLOOR from POL + FLOOR from Charm position
153,732.679
TotalBurn = Total number of FLOOR tokens deposited and burned to FLOORK during the 7 day RQC period. This is also the same number as FLOORK supply.
A breakdown of the current FloorDAO treasury is provided below if all positions were to be unwound. These numbers have been reviewed by the FloorDAO team.
Note, while numbers should stay similar to those presented below, they will move throughout the next few weeks as ETH price changes, NFT prices change, and NFTX LP positions are used for trading.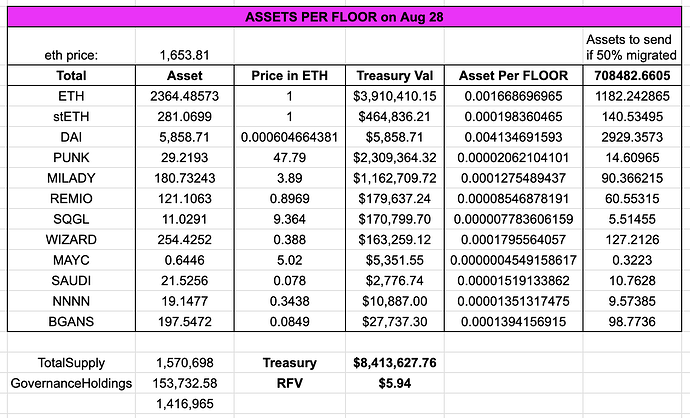 Proposal Period
This FIP#58 post will be left on the Forum for 4 days to gather feedback and make adjustments. After, FIP#58 will proceed to Snapshot for 4 days with the same options as the poll below.
Poll
For
Against
Amend
Abstain